Amazing Vegan Blueberry Muffins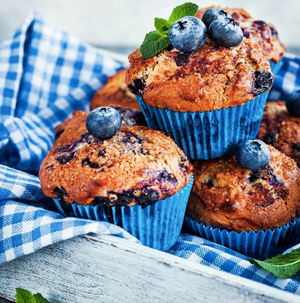 These muffins are delicious and vegan! Baking is always a great activity to do with family and friends. These can serve as a sweet treat or a breakfast on the-go.
Ingredients:
- 2 cups fresh blueberries 
- 1 tbs. unbleached flour (for the berries) 
-1/2 cup unsweetend applesauce  
- 1 tbs. vegatable oil 
- 2 tbs. white vinegar  
- 1.25 cups granulated sugar  
- 2 tbs. back soda 
- 2 teaspoons vanilla extract 
- 2 cups unbleached flour (for the muffins)  
-1.5 teaspoons baking powder 
-1/2 teaspoon kosher salt
-1/2 cup unsweetend almond milk

Instructions:
1. Preheat oven to 350F
2. Line muffin tin with baking cup and non-stick cooking spray
3. In a bowl, toss blueberries, 1 tbs. flour
4. In a different large bowl- combine sugar, oil, and applesauce.
5. Whisk or use a hand-mixer until light and fluffy
6. Add vinegar & baking soda to fluffy mixture
7. Add the vanilla
8. Stir
9. Sprinkle in dry ingredents and almond milk and continue stirring
10. Fold in flour coated blueberries
11. Place spoonfuls of batter into the baking cups
12. Bake for 20-25 minutes or until golden brown

Enjoy!
* These statements have not been evaluated by the Food and Drug Administration. These products are not intended to diagnose, treat, cure, or prevent any disease.