Vegan Gluten Free Banana Pancakes Recipe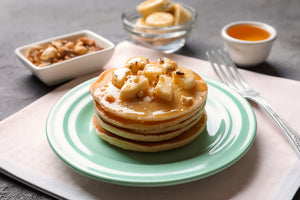 This tasty treat will make you want to have breakfast for every meal! 
Gluten Free Banana Pancakes
Prep/Cook Time: 15 min prep, 15 min cook
Yield: 4 servings
Ingredients:
4 bananas (ripe to overripe)

4 tablespoons of Chia Seeds  

½ teaspoon of baking powder

¾ cup of almond flour

Maple syrup and berries to serve
Instructions:
In a large mixing bowl, combine chia seeds with a ¾ cup of water. Mix and let sit for 15 min.

In another bowl, add in bananas and mash using a potato masher or a fork. Do not over mash for fluffier pancakes. There should still be small chunks of banana.

Pour chia seeds, almond flour, and baking powder into the mashed bananas and mix until combined.

In a medium pan over medium-low heat, scoop about 2 tablespoons of the pancake mixture and cook for about 1 minute per side.

Serve hot and with maple syrup, blueberries, strawberries, blackberries, or any other fruit you prefer.
* These statements have not been evaluated by the Food and Drug Administration. These products are not intended to diagnose, treat, cure, or prevent any disease.