Vegan Gluten Free Zucchini Noodle Salad Recipe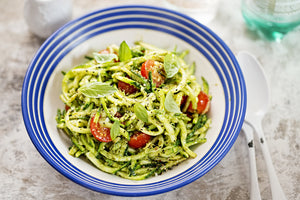 This dish makes for the perfect lunch or pair it with your dinner to add a fresh zest to any meal. 
Zoodle Salad (Zucchini Noodle Salad) 
Prep/Cook Time: 15 min prep, 10 min cook
Yield: 2 servings
Ingredients:
1 large zucchini

1 cup of leafy greens

½ cup of cherry tomatoes (or a normal chopped tomato)

1 clove of garlic (minced)

1 tablespoon of tahini or peanut butter

1 tablespoon of soy sauce

Salt and pepper to taste

2 tablespoons of olive oil

Juice from ½ lime
Instructions:
Spiralize the zucchini on the medium setting. If you do not have a spiralizer, you may use a vegetable peeler. Peel the zucchini lengthwise into long strips.

Heat a skillet over medium heat. Add 1 tablespoon of olive oil and garlic. Cook for 1 min. Add in zucchini noodles. Cook for about 5 more minutes.  Remove from heat and allow to cool.

To make the dressing, add tahini or peanut butter to a bowl. Add in 1 tablespoon of water and mix until well combined to thin out. Add in soy sauce, olive oil, and lime juice. Mix well.

In a large bowl, combine leafy greens, chopped tomatoes, and zucchini. Add in dressing and toss until combined. Add salt and pepper to taste.

Serve and enjoy!
* These statements have not been evaluated by the Food and Drug Administration. These products are not intended to diagnose, treat, cure, or prevent any disease.
Make it your own by adding in any ingredients that sound good! The most exciting part of cooking is creating your very own secret recipe 
What will you add to your Zoodle Salad?